Efficient renting.
Online rental software
Quickly align your rental and sales processes with RentMagic's approachable rental software. Suitable for small to large environments. Ready to use and can be expanded according to your needs.

Depending on your needs, you can use RentMagic via your desktop, laptop or mobile device. RentMagic is a SaaS cloud solution and is fully platform independent. You don't have to worry about investments in hardware. Everything is facilitated for you. You can log into your personal RentMagic environment from anywhere in the world via the web browser or our app.

App for mobile device
For logistics operations, you can use the mobile app. This offers you a lot of flexibility within your warehouse and for on the road. The mobile app is available for both Apple and Android.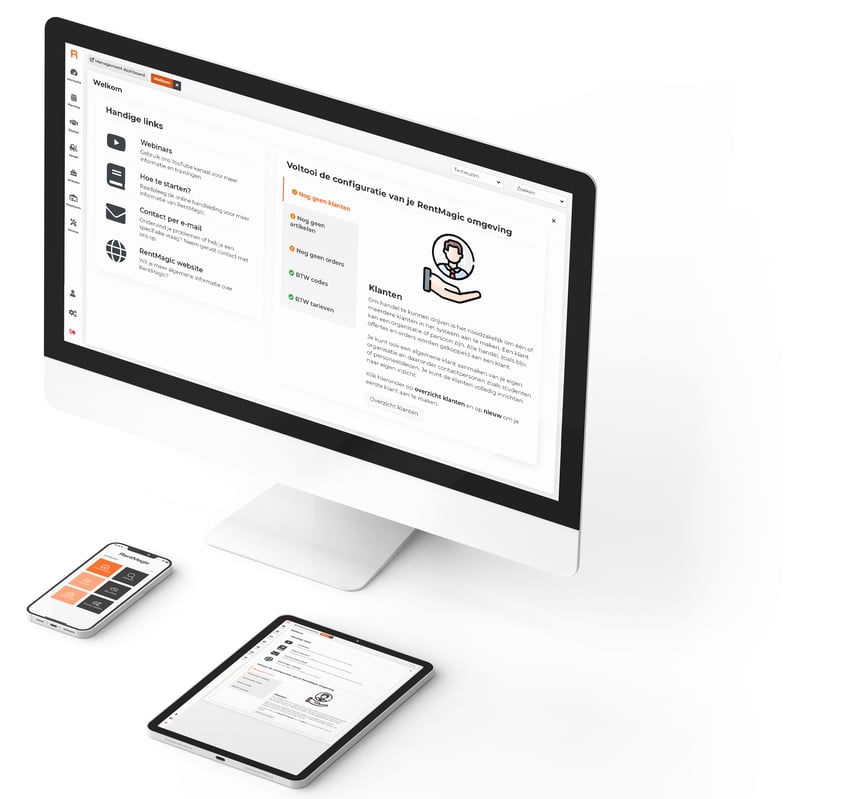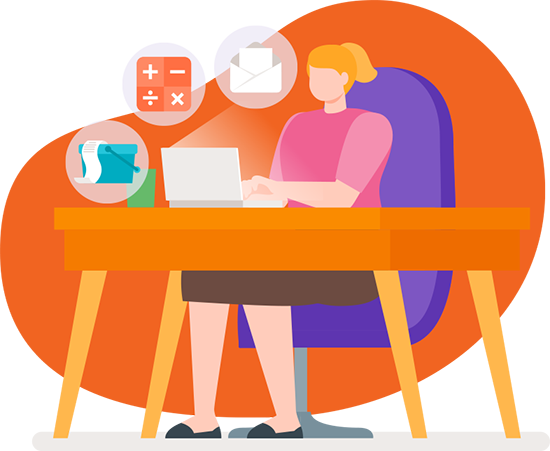 Try it out for free.
Due to the continuous development of RentMagic, the business process is becoming more and more extensive. RentMagic is a complete business platform, suitable for many types of companies and organizations in various industries.

Are you in the rental or sales business and are you looking for a suitable software platform, then RentMagic is the answer!

Curious about the possibilities? Just try it out for yourself, without any obligations.


In your trial environment you can open extra instructions to make a first setup.
Fits any organisation in the rental sector
Scalable rental ERP for any industry.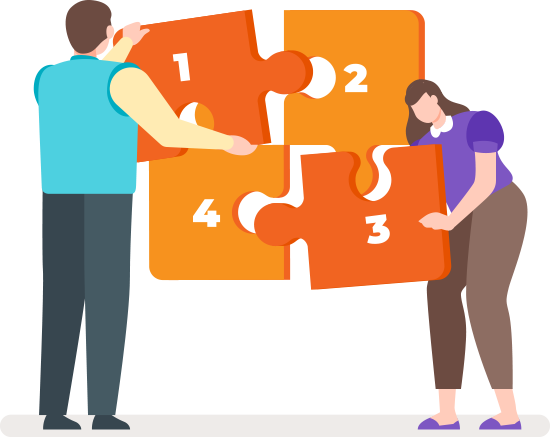 Everything is integrated into one software system: items, stock, customers, administration, planning, service management, a mobile app for logistics, a webshop for customer service.
But you can easily start and you can adjust and fine-tune day by day. This makes RentMagic suitable for every type of organisation and branch independent for large multinationals, but also for small companies that are just starting up.
Customisable and adaptable
If you have standardised processes, then you can deploy RentMagic perfectly as out of the box, but if your organization has more complexity or more specific workflows, then you can fine-tune RentMagic accordingly to the demands. The adaptive character of the platform ensures there are no limits within the possibilities. Discover the website which standard modules are on board which makes RentMagic suitable for you.
On-boarding
Project and strategy.
How do you get started with RentMagic? Depending on your capabilities, there are several approaches.
Do-it-yourself
The strength of RentMagic is that it is basically a turn-key solution. All required functionality to set up your trading process is on board, which you can configure yourself. Use the tutorial and manuals to set up the environment yourself. Do you still need help? Then you can always turn to a partner.
Guidance and training
With some guidance, it is also possible to successfully set up RentMagic. Outsource the parts you are not certain of and set up the modules you are familiar with yourself. Through training, RentMagic is taught to you, which you can then pass to colleagues.
Project-based
Within more complex environments, RentMagic is best executed on a project basis. From Infodatek the entire project is supervised and coordinated. Customization and process adjustments can also be carried out, think of inter-company, complex price calculations, special ways of invoicing and making integrations.
Introduction and tutorials
Self-instruction with webinars.
Check out our short introduction video to understand what RentMagic is and what the system can do for your organization. Besides our introduction video, you can also check out our other playlists on YouTube.
Playlists
Check our channels regularly for new videos with our tips & tricks and extension of functionality.
Many years of experience
What our customers say.
Started RentMagic as an ERP in 2018. We are working satisfactorily with intercompany, multi-language and multicurrency from three international locations. RentMagic is integrated with Microsoft Dynamics CRM 365.

David Saeys
CEO RentalTec NV
For four branches, we use RentMagic. The entire rental process from online ordering up to online payments and invoicing are managed with RentMagic. The cooperation with Infodatek really appeals to us.

Koen Patteeuw
Province West Vlaanderen
We have secured the rental business in the Netherlands for G4S with RentMagic. The flexibility, scalability and integration possibilities appealed to us enormously. We have full integration with Microsoft Dynamics AX.

Anne-Marie van de Ven
Manager BI at G4S Netherlands
We have been working with Infodatek for many years now. To streamline all rental processes, including customers, pricing and logistics, we use RentMagic, both in the Netherlands and Belgium. RentMagic is integrated with Microsoft Dynamics NAV.

Paul de Schrijver
Managing Director at All Safety Rental BV
We use RentMagic for the entire administration of our lending services. We use the online order module for our customers. This allows them to place reservations at our three locations. We also use the reports very intensively.

Tim Jonckers
Head of the lending department
For all branches we use the rental software RentMagic for issuance of our equipment. All customer contracts and conditions are included. RentMagic is linked to our Exact package for financial processing.

Jeroen Engelen
Managing director Laspartners Multiweld BV
Newsletter
Subscribe now.
Sign up for the newsletter and stay up to date with our new developments. Receive more news about Infodatek and about the road map and functionality of our product.